Hey Stamp-a-rellas,
It's that time again when I go into full gush mode regarding a brand of stamping plates that I just cannot fathom living without! That's right it's another edition of
Plates I Love!
You can check out my first post featuring Messy Mansion
here
. Today it's all about
Vivid Lacquer
nail art and tomorrow I'll have my exclusive interview with the lady herself! In all honesty Vivid Lacquer was the first indie brand plate maker I bought from stateside. The creator, Anni and I, go back to when she was just getting her company off the ground and I was obsessing over the Vivid Lacquer kitty that is the logo for her brand. Her plates make me smile. They are utterly original, huge, and of the highest quality etching. Anni takes her work seriously and likes to see her customers satisfied and happy. Initially, she started out only making plates with polishes not much further behind, but it has always always been her plates that made me salivate, stalk, and shamelessly shell out funds to get my nail art version of a drug fix ;)
Currently the brand has released about 20+ plates, and recently began selling square stampers which are taking the stamping world by storm. In fact, once again hers were the first I purchased. Stamping addicts you already know exactly what I'm talking about. Of course I'm gonna show you some nail art now using Vivid Lacquer plates, but if you want to see more all you have to do is click the Vivid Lacquer label on the sidebar and you will see the many mani's I have made using her plates.
Mani-louge
Basecoat/Topcoat: CND Stickey & Sally Hansen Diamond Flash
Basecolor: OPI My Pointe Exactly (jelly) & Pink Flamenco
Stamping Polish: Konad Special Polish in Black Gold
Stamping Plate: Vivid Lacquer VL014
This is my first time using
Rica
polishes and I have to say I'm impressed, but moreso by the owner. I had a huge problem with the delivery of my package and Rica stepped up like a champ and an owner who really appreciates her customers and redelivered my package. I owe her many many thanks for doing this for me and for valuing me as a new customer! It truly speaks to her dedication for her brand and her products. Now onto Fae - I knew the minute I saw this polish I had to have it! It is inspired by True Blood and is a clear base that is packed with both iridescent squares and holo large circle glitters. In short it's perfect "jelly food".
I combined Fae in 4 coats with OPI's My Pointe Exactly a thin dove-gray jelly from the NYC Ballet Collection. MPE is one of my favorites of this collection and I knew it was going to play nicely with Fae allowing the beautiful circular glitters to push into the foreground in flashes of light. The accent nail using OPI was just to give the total look a final punch and keep it from drowning in uniformity. I got so many compliments on this mani while I was out and about! I left the accent fairly plain using the bright burst of OPI Pink Flamenco and studs from Born Pretty to do the work.
Vivid Lacquer
strikes again eh? I truly love these plates. I haven't done nearly enough nail art with them and that's a darn shame because every time I do I realize how much I love what I'm working with! The stranding chrysanthemums (which is what I have named them) on my nails come right from VL014 and they went a long way to preserve the delicacy of this whole mani.
So thoughts? Do you all still like jelly sandwich manicures? No matter how many times I do them I think there are still so many ways to use them. Last time I did this feature I put up a lot of plates from the creator as well as nail art. I think today I'll show a selection of the plates I truly love that Anni has released thus far.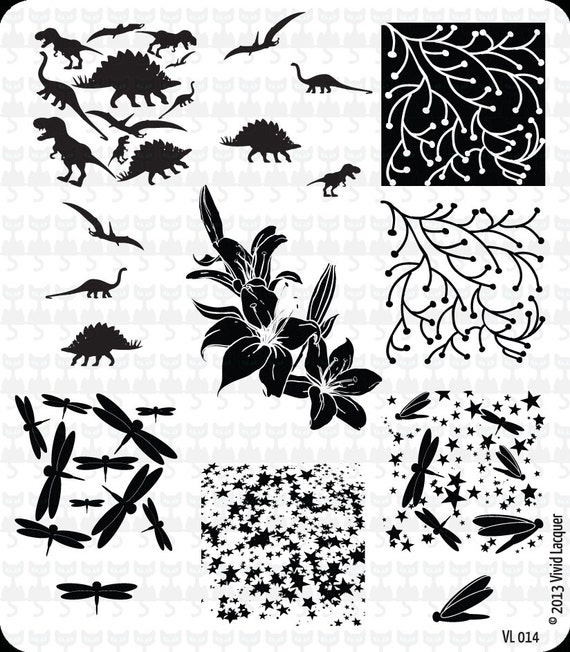 Yes VL014 was an immediate crush. The flowers and dragonflies stole my heart!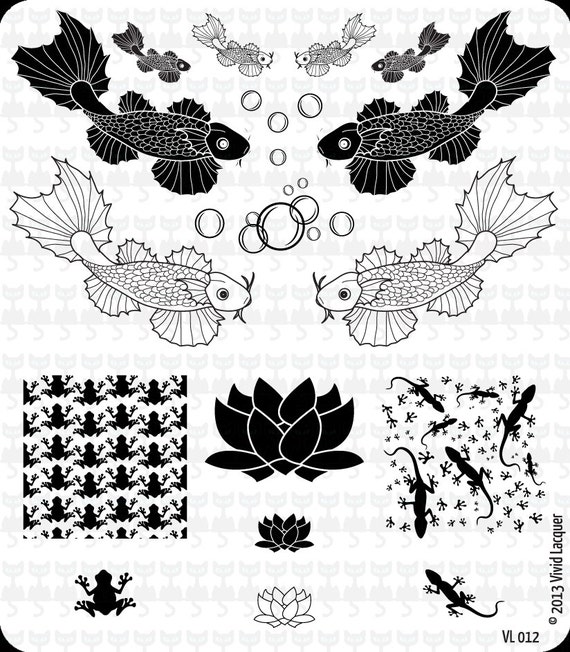 Everything about this plate makes me happy. You'll know if you follow me on instagram that I spent some time playing with the lotus blossoms on this plate. I'm still not 100% satisfied with the art I created and I still have plans for the koi fish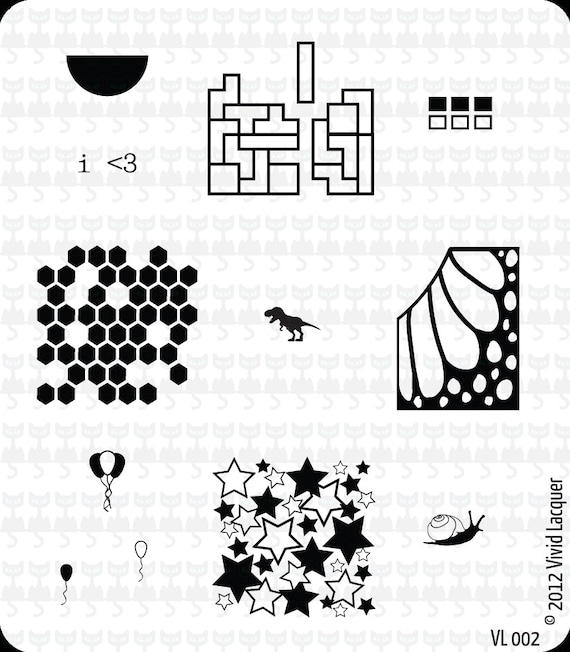 This was the plate that started it all! My obsession with the Vivid Lacquer brand originated with that butterfly wing which was literally the first of its kind. Of all the ones that came after none could live up to this level of epic!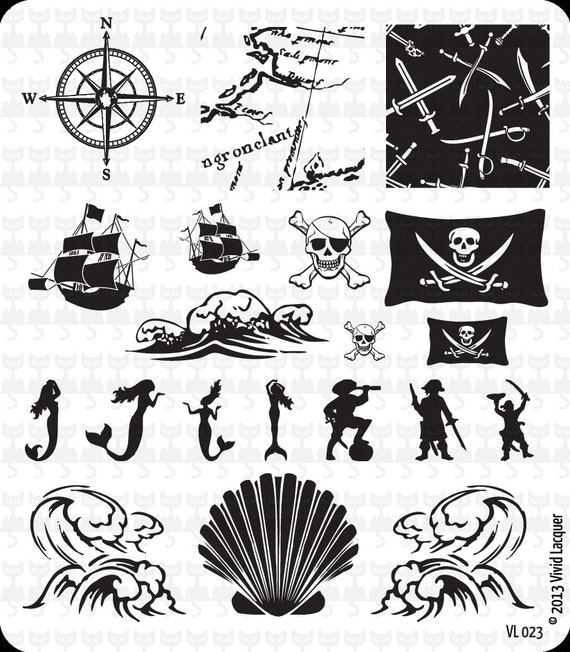 Yaaass! I love love love this plate! As much as I wanted to be a ninja I wanted to be a pirate more. Lol now I have the opportunity to be both ;) Look at the exquisite detailing on the waves. Sigh...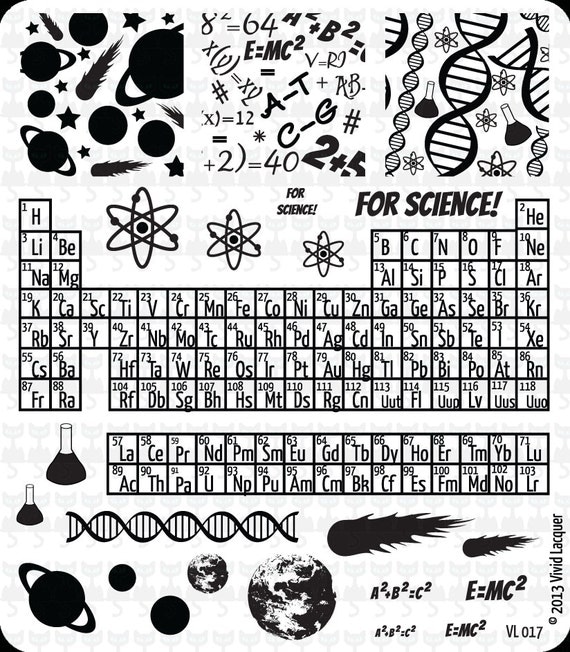 I'm a biochemist so you know this was going to be included. Frankly this and the Messy Mansion plates are the best two science plates I have EVER seen. So much win!!!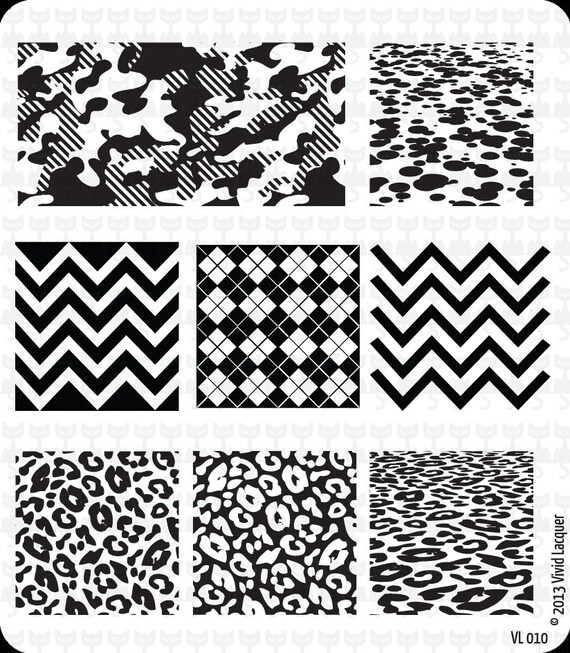 My favorite multi-print plate! Honestly these also happen to be my favorite chevrons to stamp in my entire collection!
Ok I had to stop because I realized I wanted to put up so many plates there would have been little pint to picking favorites lol. I have to give the Halloween plate a special runner up status though because that plate makes me wish it was halloween year round. In any case I hope you enjoyed the nail art and the Vivid Lacquer spotlight. Stay tuned for my interview with Anni tomorrow! And for those of your that are lagging behind on my posts or didn't see Vivid Lacquer will be releasing all new plates tomorrow. You can click
here
to see them all. Thanks for reading and see you next post!